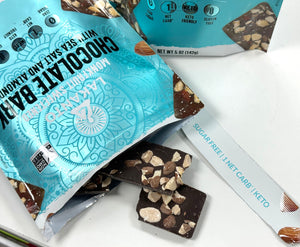 Chocolate makes you feel good (it's science, we checked) and now you can indulge without any guilt. This sugar-free, dairy-free chocolate is sweetened with Lakanto Monkfruit Sweetener. That means fewer calories and only 2 net carbs per serving. Plus, it's vegan and keto-friendly. This combination of chocolate and almonds is the perfect, convenient snack. Take me home or take me anywhere. - CHOCOLATEY GOODNESS: Indulge your love of chocolate with Lakanto's Chocolate Bark with Almonds and Sea Salt. Enjoy this sweet, gourmet snack as a mid-day treat or a quick dessert substitute!
Ingredients
Unsweetened Chocolate, Non-GMO Lakanto Monkfruit Sweetener (Erythritol and Monk Fruit Extract), Tapioca Fiber, Almonds, Acacia Gum, Natural Flavors, Sea Salt, Sunflower Lecithin
Description
Double the Chocolate - Making sugar-free cookies is easier than ever with this delicious mix. They're irresistible, but you don't have to resist because they are also sugar-free, keto friendly, vegan, gluten-free, and only have 1 net carb*. Enjoy a perfect, chocolatey treat whenever you want it! Over a thousand years ago - In the remote mountain highlands of Asia, a group of Buddhist monks called the Louhan achieved enlightenment and ascension through meditation and pure living. The monks discovered a rare superfood prized for its sweetness and its ability to raise chi, or life energy. This sacred fruit was named monk fruit and was used for centuries to increase chi and well-being, earning it the nickname "The Immortals' Fruit." We still harvest monk fruit for Lakanto in the same pristine area according to traditional and environmental methods. #DiscoverYourChi Lakanto's mission is to bring chi to life by inspiring people to reach their highest potential in health and wellness and by creating products that are innovative, delicious, natural, nutritious, and sugar-free or no sugar added. - 2X the Chocolate: With double the chocolate and zero sugar, who could resist these delicious double chocolate peppermint cookies. Now you'll have zero excuses not to try it. - Sugar-Free: No sugar, no problem! This sugar-free double chocolate peppermint cookie mix has only 1g net carbs and 60 calories per serving. - Makes Baking Easy: Cook up these delicious Double Chocolate Cookies in just 4 simple steps. Ready, set, bake! - Lifestyle Friendly: These double chocolate cookies will go great with any gluten-free, Vegan, and Keto-friendly diets. 
Shipping Information:  
We ship orders Monday - Wednesday; it can take up to 5 business days to complete and process orders.  We recommend shipping to a destination that someone will be available to accept the delivery of the order.  
All orders are shipped with 1-3 day delivery.  We will ship the quickest possible route via UPS or USPS to deliver within a 3-day time frame.   All orders are shipped with Tracking & insurance up to $50.  **Please Note:  USPS & UPS are both experiencing delays, please contact us if you did not receive your order within 3 days.