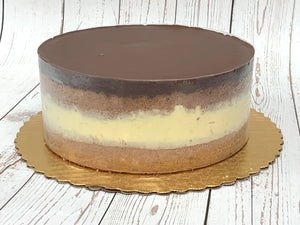 IN-STORE ONLY - PLEASE NOTE:  THIS ITEM IS AVAILABLE ONLY FOR PICK UP/TAKE OUT OR LOCAL DELIVERY!! - IF ORDERED FOR SHIPMENT THEY WILL BE SUBSTITUTED.  
Boston Creme Pie - Keto Style!  Tender vanilla almond flour cake filled with our sugar-free vanilla pastry cream and a rich low carb chocolate ganache.   These treats are sold by the piece (2 Servings) and package in clamshell containers. 
*Gluten Free * Sugar-Free *Low Carb *Keto-Friendly *Diabetic Friendly *Non-GMO

Keto Boston Creme Pie (per piece - 2 servings)
Net Carbs: 7.7 g, Total Carbs: 13.6 g, Fiber: 5.9 g, Fat: 87.5 g, Protein: 18.2 g, Sodium: 689.5 mg, Calories: 902.1.
Ingredients: superfine blanched almond flour, butter, Granulated Monk Fruit / Erythritol Blend, Coconut Flour, Gluten-Free Baking Powder, Eggs, Vanilla, Sea Salt, heavy whipping cream, xanthan gum, Stevia sweetened Chocolate. These statements have not been evaluated by the Food & Drug Administration.

Storage Information:
All treats are shipped with insulated bubble and ice packs - The shelf life of our treats are up to 2 weeks.  Refrigerate all perishable goods.  Refrigerating or freezing can increase the shelf life of our treats.  
Shipping Information:
We bake all treats daily and ship orders Monday - Thursday; it can take up to 5 business days to complete and process orders. If you need Rush Services please contact us at info@wholesomeketotreats.com. Our Keto Treats are packaged in individual containers unless otherwise specified. All products should be refrigerated upon arrival to increase shelf life. We recommend shipping to a destination that someone will be available to accept the delivery of the order. We package all boxes with bubble insulated wrapping and provide foam refrigerant brick packs to allow the treats to stay fresh until it reaches the destination.

We ship all orders 1-3 day delivery. We will ship the quickest possible route via UPS or USPS to deliver within a 3-day time frame. All orders are shipped with Tracking & insurance up to $50. **Please Note: USPS & UPS are both experiencing delays, please contact us HERE if you did not receive your order within 3 days.